walkj2's 2013 Entries
Entry Name
Game Mode
Group(s)
Segment
Points
Rank
Percent
Rays#3
Daily (No Salaries)
Segment 2
3483
6855
71.3%
Overall
8703
4446
91.0%
Astros#5
Daily (No Salaries)
Segment 2
3486
6785
71.6%
Overall
8749
4039
91.8%
Last chance to shine

By Mike Sheets
ESPN Fantasy
Archive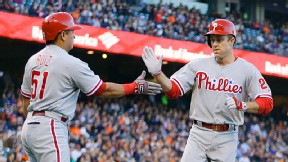 AP Photo/Ben Margot
Chase Utley has had a great September, but remains at a more-than-reasonable price.
It's not over 'til it's over.
It's not over 'til the fat lady sings.
It's not over 'til … well, no matter the different clichés I throw out there, the truth is that it's just about over. This is the final week of the 2013 regular season, so if you're going to take one final charge at the top of the standings, it's now or never. Once again, maximize your lineup's at-bats as best you can this week. Every point matters, now more than ever. Thanks for allowing me to accompany you through yet another exciting season, and good luck in Week 26.
Week 26 Lineup for Sept. 23-29
C: Wilson Ramos, Washington Nationals, 5.2 market price (+0.4): Ramos continues to be one of the most productive value plays among catchers. With six bombs and 22 RBIs in 17 September games, Ramos has been the No. 1 BBC catcher in each of the past two weeks, and he still sits outside the top 12 in market price. All six of the Nationals' games this week come on the road, where Ramos has belted nine of his 15 homers this year.
1B: Paul Goldschmidt, Arizona Diamondbacks, 6.7 market price (+0.2): Yes, Goldschmidt is the most expensive first baseman in the Challenge. And no, I don't care. With the way he's swinging the bat right now, he's worth every cent. On top of getting a seven-game slate in Week 26, Goldy has been racking up truckloads of points lately. The past two weeks have seen the slugger hit .415 with three dingers and a position-best 14 RBIs.
2B: Chase Utley, Philadelphia Phillies, 5.3 market price (+0.0): If you're already a Cano owner, you're likely sticking with him. Otherwise, Utley looks awfully intriguing this week. Not only is he a whopping 1.5 cheaper than the Yankees second baseman right now, but his recent production has been very, very similar. Since the start of September, Utley is batting .352/.390/.519, and his 36 points over the past seven days are tops at the position.
3B: Ryan Zimmerman, Washington Nationals, 6.3 market price (+0.4): I highlighted Zimmerman in this space last week, and I'm doing so again this week. Can you blame me? Zimmerman has hit 10 home runs in his past 17 games (keep in mind, he had nine homers in June, July and August combined), and his 135 points over the past month are 49 more than any other third baseman except for Josh Donaldson. He's on some kind of tear right now. … MORE
Join Our Baseball Challenge Forum
Eager to share your baseball knowledge and discuss your daily or weekly lineup? Let yourself be heard or just see what others have to say on the Baseball Challenge forum.
Invite Your Friends
Import contacts from your favorite email providers and invite them to join your group and play Baseball Challenge with you!
Connect With Other Players