wuichomb's 2013 Entry
Entry Name
Game Mode
Group(s)
Segment
Points
Rank
Percent
Cebollitas
Daily (No Salaries)
Segment 1
2458
9349
78.4%
Overall
2458
9349
78.4%
Underowned stars

By Mike Sheets
ESPN Fantasy
Archive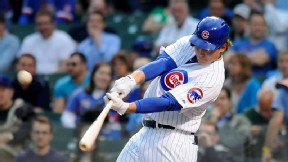 Reid Compton/USA TODAY Sports
Anthony Rizzo's power may be down, but he's still hitting for average, and is worth owning at a relatively low price.
At this point in the first segment, you should know whether or not you have a realistic chance at claiming the Baseball Challenge title. Assuming you're still in the thick of things, though, the window for your BBC team to make a run at the top spot gets smaller and smaller with each passing week. So, instead of staying the course and sticking to the status quo, it sometimes helps to change things up a bit. And one of the best ways to do that is to target some of the Challenge's lesser-owned players. After all, it's difficult to gain ground if most of your team consists of the same players as everyone else's.
Now, at a few positions -- second and third base, in particular -- I recommend sticking with Robinson Cano (25.0 percent owned) and Miguel Cabrera (38.3 percent owned), because not owning them likely will lead to you falling behind. However, there are plenty of quality options elsewhere on the diamond that are barely owned at all. Thus, the theme of this week's roster will be lesser-owned players worth considering for the stretch run. Every player listed below is rostered on less than five percent of teams. Let's get started.
Week 9: May 27-June 2
C: Wilin Rosario Colorado Rockies, 5.4 market price (4.0 percent of teams): Despite being underappreciated by the Baseball Challenge community, Rosario currently ranks as the No. 5 catcher in the Challenge and is on pace to top 30 home runs after clubbing 28 in 2012. It's also encouraging that he's hitting .333 with five of his nine homers away from Coors Field this season.
1B: Anthony Rizzo, Chicago Cubs, 5.5 market price (3.8 percent): Rizzo has only two homers in May after belting eight in April, but he's also batting .308 this month after sporting a .224 average in April, so he's still providing value. On pace for 35 homers, the Cubs first baseman ranks sixth at the position over the last month and is cheaper than Joey Votto and Paul Goldschmidt of the world. ... MORE
Join Our Baseball Challenge Forum
Eager to share your baseball knowledge and discuss your daily or weekly lineup? Let yourself be heard or just see what others have to say on the Baseball Challenge forum.
Invite Your Friends
Import contacts from your favorite email providers and invite them to join your group and play Baseball Challenge with you!
Connect With Other Players