wyo_22's 2013 Entry
Entry Name
Game Mode
Group(s)
Segment
Points
Rank
Percent
wyo_22 1
Daily (No Salaries)
Segment 1
2228
16245
62.5%
Overall
2228
16245
62.5%
The method behind the madness

By Mike Sheets
ESPN Fantasy
Archive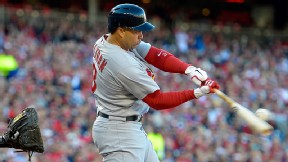 John McDonnell/Getty Images
Carlos Beltran has hit .314 in the month of May.
Over the past several weeks, I've used this space to highlight different players at each position who, in one way or another, were relevant to the Baseball Challenge. This week, however, I'm going to pull back the curtain and give you a rundown of my actual roster and provide some insight into my thinking behind each roster decision.
My BBC team, The Jerk Store, currently resides at the 93.1 percentile as we enter Week 8. I've certainly made some mistakes and would re-do some things if I could (wouldn't we all?), but I'm well within striking distance of the top spot. And at this point in the season, that's all you can really ask for. That said, roughly 7,700 teams still sit ahead of me in the standings, so I still have plenty of work to do.
Here's my roster as it's currently constructed. Note that the market prices listed below are the prices I paid when I added each player, not the prices each player is at currently.
C: Buster Posey, San Francisco Giants, 4.8 market price (+1.3): I've been rolling with Posey since very early in the season. He's not currently the No. 1 catcher in the Challenge -- that designation belongs to Carlos Santana -- but Posey ranks third right now and, more importantly, I'm betting he finishes the first segment at the top spot. Over the past two weeks, Posey's 50 points are second only to Joe Mauer. ... MORE
Join Our Baseball Challenge Forum
Eager to share your baseball knowledge and discuss your daily or weekly lineup? Let yourself be heard or just see what others have to say on the Baseball Challenge forum.
Invite Your Friends
Import contacts from your favorite email providers and invite them to join your group and play Baseball Challenge with you!
Connect With Other Players