You are currently viewing a previous season
the real skins fan 77's 2013 Entry
Entry Name

Game Mode

Group(s)

Segment

Seg

Points

Pts

Rank

PCT

the real skins fan 77

Round

U.S. Open
-28
14996

72.6

Overall
-135
6074

94.0
Go Low or Go Home

By Shawn Peters
Special to ESPN.com
Archive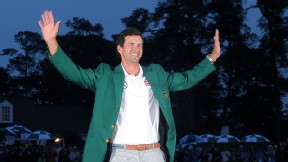 Jewel Samad/AFP/Getty Images
Can Adam Scott successfully defend his Masters title?
How do we know spring has sprung?
Is it when our calendar gets to that magical date of March 21 and winter is "officially" over? Of course not. There are still storms capable of dumping snow on large swaths of the country, reminding us that the calendar is just a piece of paper.
Is it when the first blooms appear in flowerbeds that were recently crusted with ice? The day when men and women alike ditch their sweaters for short sleeves, exposing millions of acres of pale skin to the sun for the first time in months? Or could it be when one of our nation's many microbrews releases its new seasonal beer, flavored with lemon zest and impossible-to-pronounce hops?
I'd argue that it's none of these signposts that signal the true beginning of spring, because I know spring hasn't sprung until I've filled out my fantasy foursome for The Masters edition of ESPN's Best Ball Majors Challenge.
But that's just me.
Speaking of our venerable fantasy game: a brief recap for first-timers and returning swingers alike. The point of the ESPN Best Ball Majors remains to assemble a fearsome foursome of golfers who will work together to post the best round possible using "best ball" rules. What does that mean? Your four players' scorecards are combined and you get the lowest score of any of your four players on each hole. So if three of your pros can't find the newly re-contoured 14th green in regulation while the fourth snugs up his approach and rolls it in for a birdie, you get credit for the bird and the bogeys are forgiven. That's huge, because this game is built on birdies and eagles, not overall scores. Also, you still have a limit of 50 fantasy bucks to spend on your active roster, so if you plan on picking up one big-money stud, that's fine. Two is OK, too. But if you think you can just load up on the biggest names, you're going to blow your budget and get no credit at all. Don't let it happen.
Of course, picking players isn't the only choice you have to make, because there are two different ways to play our game, with separate leaderboards for each.
For those of you who enjoy the occasional "mulligan," play the round-lock track with the ability to replace the players in your fantasy foursome before each round. You can swap out players who are underperforming and take advantage of dark horses who are outperforming their paycheck. You never have to worry about a player making the cut, because if he doesn't, you can simply plug in an active player.
Then there's the other choice. In a return to the very roots of ESPN Best Ball, fantasy players can choose a scoring track where they pick four golfers at the start of the Masters and then stick with them through thick and thin lies. You are committed to that fantasy foursome for the entire event. You score what they score. If one misses the cut, that's it. No more birdies from him. If one of your golfers is struggling, you have to ride it out and hope your other players can carry the team. Basically, you're playing the ball by the rule book and there are no free drops.
However, regardless of which track you choose, everyone will be turning their eyes to Augusta National to see which players can wake up the ghosts of greatness and tame nearly frictionless greens en route to many birdies and maybe even a green jacket.
Best Ball Majors Challenge Forum
Join the Best Ball Majors Challenge Forum and discuss your foursomes, course information and meet other golf fans! Best Ball Forum
Overall Leaderboard
Rank

Entry, Owner

Entry

Points

Pts

1
-43
2*
-40
2*
-40
2*
-40
2*
-40
2*
-40
2*
-40
2*
-40
2*
-40
10*
-39
* - Denotes tiebreaker used
Leaderboard of Round entries.
- View Leaderboard -
Invite Your Friends
Import contacts from your favorite email providers and invite them to join your group and play Best Ball Majors Challenge with you!
Invite Friends »
Prizes
Play Best Ball Majors Challenge for your chance to win a $500 Best Buy gift card.
Total ARV is $5,000
Connect With Other Players