You are currently viewing a previous season
lairsd's 2013 Entry
Entry Name

Game Mode

Group(s)

Segment

Seg

Points

Pts

Rank

PCT

lairsd 1

Round

lairsd is currently not a member of any groups.
British Open
-30
15658

66.6

Overall
-140
2222

97.8
Go Low or Go Home
By Fantasy Staff
ESPN.com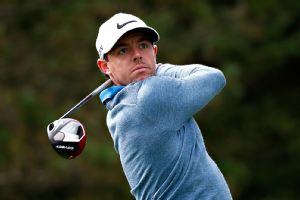 Sam Greenwood/Getty Images
Will you invest in Rory McIlroy after his dominant win at the Open Championship?
The final major of the year, the PGA Championship, is just about here, so it's your last chance to win big with our Best Ball Majors game.
Here's how the game works: With a salary cap of 50 fantasy bucks, you assemble a foursome of golfers who will work together to post the best round possible using "best ball" rules: where your four players' scorecards are combined and you get the lowest score of any of your four players on each hole. If three of your players all score bogeys on a particular hole, while the fourth gets a birdie, you get credit for a birdie. Thus, the game is built on birdies and eagles, not overall scores.
However, picking players isn't the only choice you have to make, because there are two different ways to play our game, with separate leaderboards for each.
In the traditional, "tournament lock" mode, players pick four golfers at the start of the tournament and stick with them throughout the weekend. If one of your players misses the cut, he's gone and there's much you can do with it other than rely on the other players on your roster to carry the team.
For those trying to keep up with things on a day-to-day basis, there's the "round lock" mode, where you're able to replace players in your foursome before each round. You can take out struggling players and add those surging names. If a player misses the cut, he can be replaced easily.
Best Ball Majors Challenge Forum
Join the Best Ball Majors Challenge Forum and discuss your foursomes, course information and meet other golf fans! Best Ball Forum
Overall Leaderboard
Rank

Entry, Owner

Entry

Points

Pts

1
-48
2
-45
3*
-43
3*
-43
3*
-43
3*
-43
3*
-43
3*
-43
3*
-43
10*
-42
* - Denotes tiebreaker used
Leaderboard of Round entries.
- View Leaderboard -
Invite Your Friends
Import contacts from your favorite email providers and invite them to join your group and play Best Ball Majors Challenge with you!
Invite Friends »
Prizes
Play Best Ball Majors Challenge for your chance to win a $500 Best Buy gift card.
Total ARV is $5,000
Connect With Other Players