sidecutter11's 2013 Entry
Entry Name
Game Mode
Group(s)
Segment
Points
Rank
Percent
sidecutter
Round
U.S. Open
0
0
0.0%
Overall
-36
48316
45.0%
U.S. Open preview

By Shawn Peters
Special to ESPN.com
Archive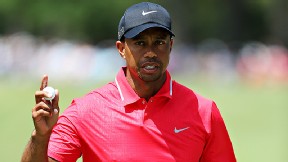 Tiger Woods' last major victory came at the U.S. Open in 2008. Can he conquer Merion for his 15th major?
Welcome to the 2013 U.S. Ope.
No, that's not a typo. It's just that with Merion Golf Club's East Course hosting this year's second major and measuring fewer than 7,000 yards, this event and this article is all about keeping things short.
Short is good, right? But it isn't always easy. I'll explain soon.
First, let's remember how our game works. You pick four golfers. They play. You get your players' best score on each hole. Birdies = awesome. Eagles = awesomer. Bogeys don't hurt as long as someone in your foursome cards a par or better. Get it? Good.
In the ESPN Best Ball Majors Challenge, there are two scoring tracks.
"Round Lock" means you can swap players after every round as long as you stay within your 50-dollar budget. No risk. Plenty of reward.
"Tournament Lock" requires you to pick your team before anyone tees off in the tournament. You get those four guys and that's it. If one misses the cut, you're down to three the rest of the way. No mulligans. Plenty of risk.
Choose one. Choose both. Just keep it short.
Speaking of short, Merion's East Course, situated just outside of Philadelphia in Ardmore, Pa., will host the U.S. Open for the first time since 1981 while measuring 6,996 yards. That number makes it the shortest U.S. Open course since 2001, when Southern Hills played 23 yards shorter.
Since then, players have gotten stronger. Balls have gotten longer. Clubs have become springier.
People thought Merion, one of American golf's truly revered courses, was too short to host the U.S. Open anymore. Apparently, they were wrong. The USGA made the fairways skinnier than a hipster's jeans and reshaped a few holes to bring trouble closer to the landing areas. The greens are tiny and, when dry, devious. The rough will be high and mowed at angles that would make Pythagoras rework his theorem.
But still, it's gonna be short.
This means that unlike in most U.S. Opens, there will be birdies to be made, and there will be two types of players who will be making them: the accurate and the aggressive. ... MORE
Best Ball Majors Challenge Forum
Join the Best Ball Majors Challenge Forum and discuss your foursomes, course information and meet other golf fans! Best Ball Forum
Invite Your Friends
Import contacts from your favorite email providers and invite them to join your group and play Best Ball Majors Challenge with you!
Prizes
Play Best Ball Majors Challenge for your chance to win a $500 Best Buy gift card.
Total ARV is $5,000
Connect With Other Players