zwally60's 2013 Entry
Entry Name
Game Mode
Group(s)
Segment
Points
Rank
Percent
zwally60 1
Round
PGA Championship
0
0
0.0%
Overall
-43
55746
44.9%
PGA Championship preview

By Shawn Peters
Special to ESPN.com
Archive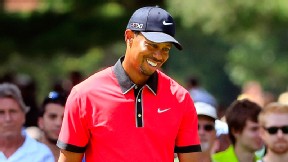 Sam Greenwood/Getty Images
Tiger Woods has not won a major this year, but he's put up solid numbers for Best Ball players this season.
The winner of the 2013 PGA Championship will be a 10-ton elephant with opposable thumbs and a wicked short game.
Didn't expect that, did you?
Well, while I don't actually stand by my previous prediction, I will say that in the PGA Championship, especially at Oak Hill, you'd do well to expect the unexpected.
In the past, the PGA Championship has been widely accepted as the major most likely to be won by someone off the radar. That hasn't been very true as of late, though, with a list of past champions at the PGA reading like a future Hall of Fame roster. Tiger Woods, Phil Mickelson, Rory McIlroy, Vijay Singh and Padraig Harrington are among the men who have help up the Wanamaker Trophy in the past decade, with Y.A. Yang the only true eyebrow-raiser in the group.
But 10 years ago, the truly unheralded Shaun Micheel hoisted the hardware at Oak Hill. It was his first win ever on the PGA Tour. It was also his last win on the PGA Tour. That's not supposed to happen when you have the best golfers in the world all playing against each other, but it did.
The PGA Championship is also supposed to be the "easiest" major, with 17 of the past 20 tournaments won by a final score of 8-under par or better. Micheel won with a 4-under total, the second-highest winning score to par in these past two decades.
Oh, and one other detail. The past four majors have all been won by legitimate stars of the game. McIlroy was third in the World Golf Rankings a year ago before winning the PGA at the Ocean Course. Adam Scott was seventh before his triumph at The Masters, Justin Rose sat at fifth before winning his first major at the U.S. Open, and Mickelson was fifth before his recent win at Muirfield. In short, the past four major champions have been exactly the kind of guys you'd expect to win a major. We are due for a monkey wrench. ... MORE
Best Ball Majors Challenge Forum
Join the Best Ball Majors Challenge Forum and discuss your foursomes, course information and meet other golf fans! Best Ball Forum
Invite Your Friends
Import contacts from your favorite email providers and invite them to join your group and play Best Ball Majors Challenge with you!
Prizes
Play Best Ball Majors Challenge for your chance to win a $500 Best Buy gift card.
Total ARV is $5,000
Connect With Other Players