Thanks for your interest in Champions League Pickem. This year's game has ended.
Please check out the latest ESPN fantasy games on the Fantasy Game Front Page
Make Your Champions League Selections
By James Quintong
ESPN Fantasy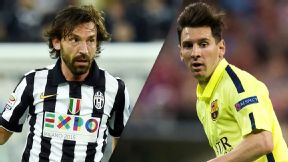 Will Juventus or Barcelona come away with the Champions League title?
Europe's best club teams will be fighting for supremacy over the next nine months in the UEFA Champions League. You can join in the fun by playing along with our Champions League Pick 'em game, and win some great prizes.
You get to predict the results of all 111 matches played throughout the tournament, beginning with the group stage in September all the way to the final next May. For each match you predict correctly, you'll get points, and the point values increase as the tournament progresses. Here's how the picks are scored:
Group Stage: 1 point per correct pick (96 matches = 96 points max)
Round of 16: 4 points per correct pick (8 matches = 32 points max)
Quarterfinals: 8 points per correct pick (4 matches = 32 points max)
Semifinals: 16 points per correct pick (2 matches = 32 points max)
Final: 16 points for correct pick (1 match = 16 points max)
Total maximum points: 208
You'll have plenty of time to deliberate over your group stage picks, as those choices won't lock in until each of those matches begin. Or you can think ahead and make your picks now for the matches that will run between September and December.
And then you'll have some time to catch up during the later stages when the points really build up.
Be sure to follow ESPNFC.com's UEFA Champions League section to get all the news and scores you'll need throughout the tournament to help make your picks.
Good luck and happy picking!
Champions League Pick 'em - Forum
Need to know who the best bets are to win this season's Champions League tournament? Join the forum and get some help from the competition. Trash-talk with fans from around the world, brag about your favorite teams or discuss anything else soccer-related all day, every day. Message boards
Overall Leaderboard
Rank

Entry, Owner

Entry

Points

Pts

1
180
2
179
3*
176
3*
176
5
175
6*
174
6*
174
6*
174
6*
174
10*
173
* - Denotes tiebreaker used
- View Leaderboard -
Prizes
Play Champions League Pick 'Em for your chance to win a $2,000 Amazon.com gift card and more!
Total ARV is $3,000
Connect With Other Players