Welcome to Champions League Pickem 2015!
You'll need to REGISTER for a new ESPN.com account or SIGN-IN with an existing account to get started in Champions League Pickem. Once signed in, you can compete against other ESPN Fantasy players and will be able to compete for great prizes.
Pick the winner of each game during the Champions League season. Earn points for each correct pick.
Come back for 5 minutes each week to make your picks and compete against friends, family, and other fans.
Compete for your chance to win a $2,000 Amazon gift card (total value of all prizes: $3,000).
IMPORTANT
: Please review the Official Rules before entering this contest. By clicking on the "Create Entry" button, you evidence your consent to be bound by these Official Rules. If you do not agree to the Official Rules
exit the game here
.
These Are Your Champions
By Graham McKean
ESPN Fantasy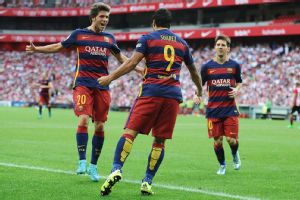 Will Barcelona come away with the Champions League title again this year?
Europe's greatest clubs are competing once again to crown the ultimate champion and this is your chance to claim a piece of the glory. Over the next nine months you can pick the winners of every match throughout the tournament, from the Group Stage all the way to the Final in May, for a chance to win some awesome prizes.
That's 111 matches total worth various amounts of points that increase in value as the competition progresses. Here's the scoring breakdown:
Group Stage:
1 point per correct pick (96 matches = 96 points total)
Round of 16: 4 points per correct pick (8 matches = 32 points total)
Quarterfinals: 8 points per correct pick (4 matches = 32 points total)
Semifinals: 16 points per correct pick (2 matches = 32 points total)
Final: 16 points per correct pick (1 match = 16 points max)
There are some tough decisions that lie ahead.
Can Barcelona become the first repeat champion since AC Milan pulled it off in 1989 & 1990? Will one of the record FIVE Spanish clubs that are competing in the Group Stage make it three straight Champions League titles for La Liga? How will Manchester United and the other Premier League teams fare in the Knockout Round - that is, if they make it at all?
The decisions are yours but rest assured you'll have plenty of time to make them. The matchups won't lock until the games actually begin round by round, so make sure to check back periodically to lock in your picks.
Be sure to follow ESPNFC.com's UEFA Champions League section for all the scores and analysis you'll need throughout the tournament to help crown yourself the ultimate champion!
Overall Leaderboard
Rank

Entry, Owner

Entry

Points

Pts

1
75
2*
74
2*
74
2*
74
2*
74
2*
74
2*
74
2*
74
2*
74
2*
74
* - Denotes tiebreaker used
- View Leaderboard -
Prizes
Play Champions League Pick 'Em for your chance to win a $2,000 Amazon.com gift card and more!
Total ARV is $3,000
Connect With Other Players