Step
Pick the winner of 35 college football bowl games and rank them in order of how confident you are in each.
Step
You only need to make your picks once and you can compete against friends, family, and other football fans.
Step
Compete for your chance to win a $2,000 Best Buy gift card by making the most correct picks.
Let the Bowl Mania Begin

By Will Harris
ESPN.com
Archive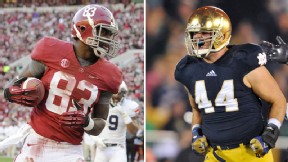 US Presswire
Alabama and Notre Dame are playing for the national title, but there are plenty of other games to predict as well.
ESPN.com's free College Bowl Mania game will be familiar to those who have played College Pick 'em. The principle is the same: Pick the winner of each game, then rank the games in the order of your confidence in those picks. The twist, of course, is that Bowl Mania requires you to rank 35 games in order of confidence rather than the usual 10.
You'll always be able to access your entry from the drop-down menu under the fantasy tab on the ESPN.com front page. Play against others from around the country or create your own private group to compete against your friends. The first bowl games are Dec. 15.
Handicapping bowl games can be both easier and trickier than regular-season games. Each team is a known commodity with a full season's body of work to dissect. However, the true stakes of each contest are not always readily apparent.
College football is unique among major sports in that teams compete for something other than the sport's overall championship during the postseason. That "something" is different from bowl to bowl, and each game's prize is not always valued equally by the combatants.
The college football postseason is the only situation in the major sports where one team that views the game as a meaningless exhibition might be pitted against another team that views it as a championship-type opportunity.
If you understand what the game means to each team and which teams are highly motivated to prepare and play their best, you'll be well on your way to Bowl Mania success. You'll then know which teams will likely play better or worse than their usual performance baseline, and that's the hard part. ... MORE
Will Harris reveals his Bowl Mania picks

Fantasy college football analyst Will Harris states the case for the participants in all 35 bowls, picks a winner and ranks his choices by confidence. Bowl Predictions
If you need more help making your picks, check out the following:
• Insider Audio: Phil Steele and Will Harris discuss their picks



• College Football PickCenter


• Overview of all 35 bowls<!img src="http://assets.espn.go.com/icons/in.gif">
• Schlabach: Ranking all 35 bowl games<!img src="http://assets.espn.go.com/icons/in.gif">
• Complete 2012-13 bowl coverage<!img src="http://assets.espn.go.com/icons/in.gif">

Join Our Bowl Mania Message Boards
Have a group you'd like others to join? Do you think the right teams were selected for the right games? Let yourself be heard or just see what others have to say on the Bowl Mania message board.
Challenge Mike & Mike

ESPN Radio's Mike Golic and Mike Greenberg have made their selections for the college bowl season. Think you can pick better than these guys? Prove it and join the Mike & Mike group today. - Click here

Dan LeBatard Is Highly Questionable

Dan LeBatard and his father, Papi, appear daily on ESPN2 and address the biggest questions in the sports world. After all the discussions and debates, do you think they can pick all the bowl games correctly? Join the group and find out - Click here

The Numbers Never Lie

They know the stats. They know the trends. They know the matchups, but can the hosts of Numbers Never Lie confidently pick the winners of Bowl Mania? Join the group and see where you stack up against some of ESPN's most opinionated. - Click here
Invite Your Friends
Import contacts from your favorite email providers and invite them to join your group and play College Bowl Mania with you!
Connect With Other Players