Step
Construct a team consisting of 8 football positions and earn points for their performance each week.
Step
Come back 5 minutes a week to change your roster and compete against friends, family, and other fans.
Step
Compete for your chance to win a $1,000 Best Buy gift card (ARV: $5,000).
Rolling Right Along

By Will Harris
Special to ESPN.com
Archive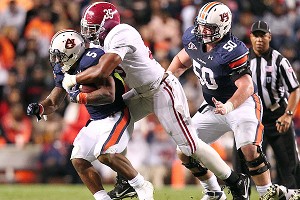 Marvin Gentry/US Presswire
Alabama's defense should be able to feast on rival Auburn as it tries to move closer to a return to the BCS title game.
College Football Challenge is a player-based fantasy game with a format that's challenging yet flexible and user-friendly. You can play using all 124 FBS teams or compete within any of the 11 conferences. The points-based scoring system revolves around an eight-slot roster of quarterbacks, running backs, receivers, team kicking and team defense. Each week we'll take a look at the top performers and surprise contributors, while alerting you to any players who might need to spend the week on the bench.
Cream of the Crop: Star fantasy performers with the best matchups
Mike Glennon, QB, North Carolina State: Glennon dropped nearly 500 yards passing on Clemson in Death Valley last week. This time around should have no difficulty lighting up a defective Boston College secondary at home.
Jordan Lynch, QB, Northern Illinois: The nation's third-leading rusher is also good for 234 yards and two scores per game through the air. With the MAC West division title in hand, Lynch may find the bench early if the heavily favored Huskies can put away Eastern Michigan by halftime. Even so, he'll get his before he departs, and there's some chance that an improving Eagles offense can land enough punches to keep Lynch and the Huskies at full throttle most of the game.
Team Defense, Alabama: The Tide refocused after a tough loss and earned a shutout over FCS entrant Western Carolina. Auburn may play enough defense to hang in for a while in the Iron Bowl, but it's hard to see the Tigers denting the scoreboard much and defensive touchdowns are definitely a possibility for the opportunistic 'Bama secondary.
Ka'Deem Carey, RB, Arizona: The return to health of quarterback Matt Scott just makes Carey less likely to face stacked boxes. He'll have another big day against an Arizona State defense that's been pretty solid against the pass but one of the worst in the nation at preventing explosive rushing plays. ... MORE
&nbsp
College Football Challenge - Forums
Need to know who the elite performers will be each week? Join the College Football Challenge message boards and get some help from the competition. Compare your rosters, brag about your favorite college teams or just talk college football all day, every day. Forums
Prizes
Play College Football Challenge for your chance to win a $1,000 Best Buy gift card.
Total ARV is $5,000
ESPN Fantasy Jobs
Want to help build the games that you love to play?
Connect With Other Players