Welcome to College Pick'em 2013!
You'll need to REGISTER for a new ESPN.com account or SIGN-IN with an existing account to get started in College Pick'em. Once signed in, you can compete against other ESPN Fantasy players and will be able to compete for great prizes.
Pick the winner of 10 college football games a week and rank them in order of how confident you are in each.
Come back for 5 minutes each week to make your picks and compete against friends, family, and other fans.
Compete for your chance to win a $2,000 Best Buy gift card (total value of all prizes: $4,500).
IMPORTANT
: Please review the Official Rules before entering this contest. By clicking on the "Create Entry" button, you evidence your consent to be bound by these Official Rules. If you do not agree to the Official Rules
exit the game here
.
It's All a Matter of Confidence
By Will Harris
Special to ESPN.com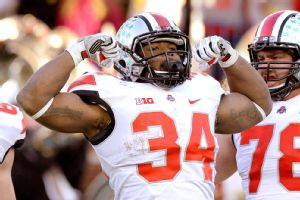 AP Photo/Carlos Osorio
Can Ohio State win the Big Ten title game to stay undefeated and potentially clinch a spot in the BCS championship game?
College Pick 'em is a pick-the-winner game with a twist: Players must rank their picks in order of confidence. Log in to the College Pick 'em page every Monday for the upcoming week's matchups and previews.
Pick 'em is largely won and lost with the teams that appear most frequently in the game. Such teams are usually ones that are ranked, yet not dominant enough to be three or four-touchdown favorites very often. Pegging the teams you see over and over again -- especially the ones that go something like 6-2 or 2-6 in Pick 'em appearances -- gives you an edge over the competition.
If you're looking for some advice on how to make the most of your picks and set confidence points for each week's games, here are some tools at your disposal:
College Pick 'em - Forums
Need to know who the best bets are for this week? Join the College Pick 'Em message boards and get some help from the competition. Trash-talk with your selections, brag about your favorite college teams or anything else college football-related all day, every day. Game Forum
Invite Your Friends
Import contacts from your favorite email providers and invite them to join your group and play College Pick'em with you!
Invite Friends »
Prizes
Play College Pick'em for your chance to win a $2,000 Best Buy gift card and over $4,500 in prizes in all.
Total ARV is $4,500
Connect With Other Players