Wine1313's 2013 Entry
| Entry Name | Group(s) | Points | Rank | Percent |
| --- | --- | --- | --- | --- |
| Wine1313 | | 405 | 6104 | 95.8% |
Restore The Order
By Will Harris
Special to ESPN.com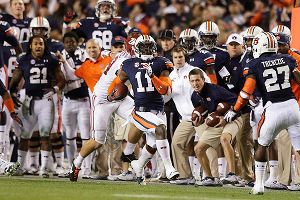 AP Photo/Dave Martin
Can Auburn continue its magic and win the SEC title?
College Pick 'em players know that the final outcome of a college football game can be difficult to predict. But what about the games within the game? The details, the game flow, the individual matchups and performances? That's where our all-new College Rank 'em game comes in.
If you're not always sure which side will win the game, but you know one team's defense will certainly be tough to score on, Rank 'em is for you. If you're sure the star tailback will get his yards no matter who wins the game, Rank 'em is for you.
Each week during the 15-week season, Rank 'em will provide 10 sets of matchup propositions. Each set will consist of three different matchups. The answer to each will be a number, and you'll rank the outcomes of each proposition from highest to lowest. ... MORE
College Rank 'em - Forums
Need to know who the best bets are for this week? Join the College Rank 'em message boards and get some help from the competition. Trash-talk with your selections, brag about your favorite college teams or anything else college football-related all day, every day. Game Forum
Invite Your Friends
Import contacts from your favorite email providers and invite them to join your group and play College Football Rank'em with you!
Invite Friends »
Connect With Other Players