I never know what to name...
Creator: Bacon Bits
Format: ESPN Custom
Privacy: Private

Offseason Storylines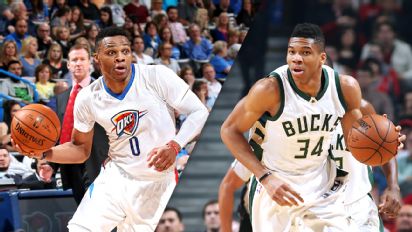 NBAE via Getty Images
Our analysts break down the top offseason fantasy questions, including the potential break up of OKC's dynamic duo and a rising star in Milwaukee.
Starting Five
•
Carpenter:
Way-too-early 2016-17 fantasy rankings
•
Carpenter:
NBA draft lottery fantasy impacts

•
Kaiser:
Combine takeaways
•
Doolittle:
Davis or Towns in '16?

•
Kaiser:
Season's 10 takeaways

•
Kaiser:
5 biggest disappointments

•
Cregan:
2016-17 sleepers
•
Daily fantasy:
Staff blog
Recent League Activity