You are currently viewing pages from the 2013 season.
New York H2H 176321
Format: Standard
Privacy: Public

Post-deadline winners, losers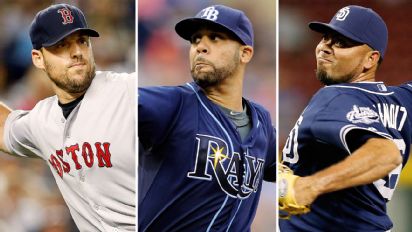 Getty Images
Tristan H. Cockcroft has the fantasy spin on all the deadline deals: where David Price jumps tiers, John Lackey jumps leagues and Joaquin Benoit's rank jumps simply by him staying put. Updated Rankings

• Karabell: Invest in Taveras?


• Podcast: Masterson, Lester deals


• Karabell: Fallout of Lester deal


• Karabell: Masterson's new value


• Crawford: Top 1B prospects


• Crawford: Top 10 prospects


• Video: Rangers to watch


• Video: Hembree's value


• Cockcroft: Hitting splits
• Friday's Daily Notes