tylers fylers's 2014 Entry
Entry Name

Group(s)

Segment

Seg

Points

Pts

Rank

PCT

netherwood
Segment 2
213
8186

60.4

Overall
823
5893

86.8
Segment 2 Begins

By Sean Allen
Special to ESPN.com
Archive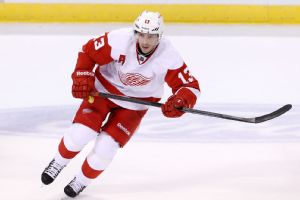 Robert Mayer/USA TODAY Sports
Pavel Datsyuk enters Segment 2 as a bargain because of missed time earlier this season.
Segment 2 of the game begins this week, so make sure you are re-setting your lineup. Why do you need to absolutely make sure? Because your roster was purged for you over the Olympic break to kick off Segment 2. All your sleepers are gone, and you have to repurchase all your players. Your salary cap is back down to $100 million like everybody else, too.
Of course, the reset button isn't all bad news. Because the new salaries are based solely on this season's performance, there is a wealth of sleepers now available in the game. Go ahead, scroll down the list of salaries to spot Pavel Datsyuk ($6.0M), Steven Stamkos ($5.5M) or Logan Couture ($6.1M) available at insanely low prices because they missed some time earlier this season. Your lineup should definitely include some sleepers such as these players (at the very least Stamkos) as a strategy to quickly build your salary cap back up.
Join Our Hockey Challenge Forum
Have a group you'd like others to join? Do you think your team is going to make it to the Stanley Cup Finals? Let yourself be heard or just see what others have to say on the Hockey Challenge forum.
Overall Leaderboard
Rank

Entry, Owner

Entry

Points

Pts

1
1027
2*
1025
2*
1025
4
1024
5
1019
6
1018
7
1012
8
1010
9*
1007
9*
1007
* - Denotes tiebreaker used
- View Leaderboard -
Invite Your Friends
Import contacts from your favorite email providers and invite them to join your group and play Hockey Challenge with you!
Invite Friends »
Connect With Other Players