Let The Games Begin

By Sean Allen
Special to ESPN.com
Archive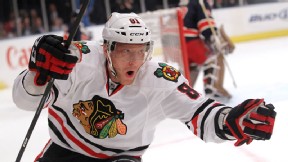 Bruce Bennett/Getty Images
The Blackhawks' Marian Hossa could be a great bargain to start the season.
The best advice for the very first week of the Hockey Challenge is to consider locking up some of your personal favorite sleepers for the season. Their salary will never be lower than it is right now. Pick out a couple of players who you personally believe will have the biggest breakout campaigns during this abbreviated NHL season and get them on your team. Remember that the salaries in the Hockey Challenge will rise with a player's performance. It won't be long before you could potentially be saving millions of fantasy dollars in your lineup because you have a rising superstar on the cheap.
The skeds: The St. Louis Blues, Philadelphia Flyers and Chicago Blackhawks are the only teams with a six-game schedule for the opening scoring period. The Anaheim Ducks, Boston Bruins, Carolina Hurricanes, Calgary Flames, Colorado Avalanche, Los Angeles Kings, Montreal Canadiens, New Jersey Devils and Edmonton Oilers only have four games. Every other team has five. The Flyers, Blues and Blackhawks have some clear candidates to consider, that they all have an extra game to play. Marian Hossa ($7.8M) and Patrick Kane ($7.7M) are a little bit cheaper than some of the elite options, but have just as much upside. Andy McDonald ($6.7M), Brayden Schenn ($7.3M) and David Bolland ($5.1M) are good options to save some money on offense. Not only does Alex Pietrangelo ($6.8M) have a great schedule for the opening week, but he is a player you could lock down for your roster the entire season and likely be pleased with the results. Nick Leddy ($5.7M) is a sleeper on defense after having a breakout campaign last season and running second in the AHL in points during the lockout.
Goaltending: Remember: The wins don't have to be pretty for the Hockey Challenge, they just have to be wins. Jonathan Quick ($11.7M) may only have four games in this scoring period, but he should start all four and the Kings should win all four. While Cory Schneider ($11.5M) may get some rest during a five-game "week," the Vancouver Canucks have a favorable starting schedule and could conceivably begin the campaign 5-0 with games against the Anaheim Ducks (twice), Edmonton Oilers, Calgary Flames and San Jose Sharks. Try to avoid Henrik Lundqvist ($11.7M) and Tuukka Rask ($11.4M) to begin the season. Though both are elite, they battle each other twice in this opening scoring period. If you are buying into the Carolina Hurricanes improvements this season, Cam Ward ($11.3M) should be favored in games against the Tampa Bay Lightning, Florida Panthers and a pair of contests against the Buffalo Sabres. If you need to save some dough in goaltending (though it's not advised early in the season), Ray Emery ($10.2M) could pick up a couple of starts with the Chicago Blackhawks having six games and James Reimer ($9.9M) could pick up a couple wins for the Toronto Maple Leafs.
My roster for next week:

Jonathan Quick, G ($11.7M)
Cory Schneider, G ($11.5M)
Alex Pietrangelo, D ($6.8M)
Mike Green, D ($6.2M)
Kimmo Timonen, D ($6.5M)
Kris Letang, D ($7.1M)
Sidney Crosby, F ($8.8M)
Evgeni Malkin, F ($8.7M)
Steven Stamkos, F ($8.7)
John Tavares, F ($8.4M)
Drew Stafford, F ($7.3M)
Tyler Ennis, F ($7.4M)
I have high hopes for my franchise after finishing among the top players last season in the Hockey Challenge. What's the secret? Constant management and not missing a week of lineup changes. It's easy when you have to write about it like I do, but you can also set up email alerts to make sure you don't forget to change out your squad.
My strategy for the opening week? Goaltenders that I think will collect at least eight wins between them and then a mix of sleepers and superstars. It may seem easy to put together a lineup in the first week because the salaries are so low, but they will go up quickly and start to limit your options. Of my defense, I hope to keep everyone except Timonen for an extended period of time. Timonen and the Flyers have a six-game week though, so it's hard to resist. Up front, I used two sleeper picks on Stafford and Ennis because I believe their line for the Buffalo Sabres can be just as hot as they were at the end of last season. That allowed me to stack my other forward spots with superstars.
For more advice, check out Week 1's Fantasy Forecaster
Introduction to Hockey Challenge
Join Our Hockey Challenge Forum
Have a group you'd like others to join? Do you think your team is going to make it to the Stanley Cup Finals? Let yourself be heard or just see what others have to say on the Hockey Challenge forum.
Overall Leaderboard
Rank

Entry, Owner

Entry

Points

Pts

1
1027
2*
1025
2*
1025
4
1024
5
1019
6
1018
7
1012
8
1010
9*
1007
9*
1007
* - Denotes tiebreaker used
- View Leaderboard -
Invite Your Friends
Import contacts from your favorite email providers and invite them to join your group and play Hockey Challenge with you!
Invite Friends »
Prizes
Play Segment 2 of Hockey Challenge for your chance to win a 2014 Forte 5 SX Luxury car valued at $28,295 (CAN).
Total ARV is $28,295 (CAN)
Connect With Other Players