Step
Construct a team of 12 hockey players and earn points for their performance.
Step
Come back 5 minutes each round to change your roster and compete against friends, family, and other fans.
Step
Compete for your chance to win a $2,000 gift card in Hockey Challenge.
Finishing Strong

By Sean Allen
Special to ESPN.com
Archive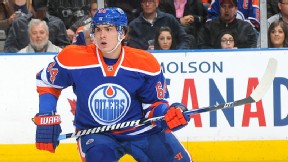 Andy Devlin/NHLI via Getty Images
Nail Yakupov has extra games to give fantasy owners a very late push.
The skeds: Don't forget that you are swinging for the fences here if you trail in your group or trail behind your overall goal. Playing it completely safe in the Hockey Challenge won't get you to the top if you aren't almost there already. It's possible to make some big gains in this game by picking the right players to go off in a certain week. Make some bold predictions and go for it this week if you aren't in contention right now.
If you like sticking with what works, the Winnipeg Jets' pair of Andrew Ladd ($8.6M) and Blake Wheeler ($8.5M) top the list for your squad this coming week. The duo has been absolutely red hot lately. Brenden Morrow ($5.0M) is the cheaper version of a red-hot commodity.
My strategy to swing for the fences is to take forwards from the teams that have an extra game this week. The Chicago Blackhawks, Edmonton Oilers, Detroit Red Wings, Phoenix Coyotes and Ottawa Senators all play four games while everyone else plays three or fewer.
Of the four-game players, Jonathan Toews ($10.3M) and Marian Hossa ($8.5M) are the easiest to love for your roster. But a cheaper pair might be Milan Michalek ($6.5M) and Kyle Turris ($6.5M).
Alex Galchenyuk ($4.9M) remains one of the cheaper options in the game that is on a roll. As his linemate, Lars Eller ($5.9M) is keeping up with the young Galchenyuk.
This time around, it appears Zach Bogosian ($4.1M) is willing to pick up some of the offensive slack for the injured Tobias Enstrom. If Bogosian can keep up the pace (six points in three games), he is an extreme value buy for the final week. Kimmo Timonen ($7.8M) has almost been as hot as Bogosian. He costs quite a bit more, but comes with a better track record. Don't forget that Brent Burns ($6.5M) is still an absolute steal on defense as he plays forward for the San Jose Sharks. Also on the cheap side, Jake Gardiner ($4.8M) is playing next to Dion Phaneuf ($8.4M) at both even strength and on the man advantage. His offensive game finally showed on Thursday with two assists.
Goaltending: When you consider that teams will be battling for wins in playoff races, Craig Anderson ($11.7M) and Jimmy Howard ($12.5M) jump out as options. Both are fighting for playoff position and both have four-game weeks where they might be forced to start all four games due to the importance. If you are looking for rolls, Antti Niemi ($12.0M) and Brian Elliott ($11.1M) are the top netminders to look at. Steve Mason ($8.3M) is your Hail Mary of the week. He has looked good as a member of the Philadelphia Flyers and may steal the final few starts.
My roster for next week:
Brian Elliot, G ($11.1M)
Craig Anderson, G ($11.7M)
Sergei Gonchar, D ($7.1M)
Jake Gardiner, D ($4.8M)
Zach Bogosian, D ($4.1M)
Brent Burns, D ($5.9M / $6.5M on market)
Nail Yakupov, F ($7.5M)
Taylor Hall, F ($9.3M)
Pavel Datsyuk, F ($9.8M)
Henrik Zetterberg, F ($9.4M)
Jonathan Toews, F ($10.3M)
Marian Hossa, F ($8.5M)

For more advice, check out Week 14's Fantasy Forecaster
Join Our Hockey Challenge Forum
Have a group you'd like others to join? Do you think your team is going to make it to the Stanley Cup Finals? Let yourself be heard or just see what others have to say on the Hockey Challenge forum.
Invite Your Friends
Import contacts from your favorite email providers and invite them to join your group and play Hockey Challenge with you!
Connect With Other Players