Step
Construct a team consisting of 5 basketball players and 1 coach and earn points for your performance.
Step
Come back 5 minutes a day/week to update your roster and compete against friends, family, and other fans.
Step
Compete for your chance to win one of nine $500 Best Buy gift cards.
Ricky Rubio, Spencer Hawes among top final-week bargains

By Tom Carpenter
ESPN.com
Archive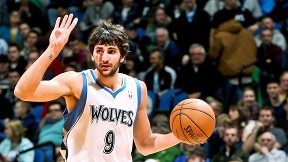 David Sherman/NBAE/Getty Images
Ricky Rubio is poised to finish off the season in impressive fashion.
It's hard to believe that there's just a dozen days of NBA games remaining in the 2012-13 fantasy hoops campaign. Since the Washington Wizards and Cleveland Cavaliers tipped off this season back on Oct. 30, we have seen a ton of fantasy statistics produced by NBA players: about 220,680 points, 94,650 rebounds, 49,800 dimes, 17,550 steals, 11,610 blocks and 16,080 3-pointers. But once the buzzer sounds on the final game on April 17, we won't see another relevant hoops stat for nearly six months. Yet, this is no time to look back and savor. Head-to-head points leagues are rolling through the finals and, with just a week and a half remaining, this will be the last time we set our Fastbreak lineups this season.
For those of you in head-to-head leagues that set your lineups this Monday and next Monday, you'll want to be sure to check the schedule closely for both Weeks 24 and 25. The Brooklyn Nets, Chicago Bulls, Cleveland Cavaliers, Los Angeles Lakers, Miami Heat, Milwaukee Bucks, Minnesota Timberwolves, New Orleans Hornets, New York Knicks and Philadelphia 76ers are the only teams playing four games in Week 24, while the Atlanta Hawks, Detroit Pistons, Orlando Magic and Utah Jazz will ball just twice. In the final half week of games (Week 25), the Lakers and Hornets have a single game, while every other squad hits the court twice.
Many other points leagues -- including the Fastbreak game -- roll the final week and a half into one scoring period, which obviously affects the games-played schedule of the guys on your roster. Combining Weeks 24 and 25, we see that the Hawks, Pistons, Magic and Jazz get the short straw, as they will ball a total of just four times. The best schedules during that stretch belong to the Nets, Bulls, Cavs, Heat, Bucks, Wolves, Knicks and Sixers, who roll six times. All of the remaining teams play five games, which means that while they don't have an ideal six-game slate, high-end players on those teams could still find their way onto your roster. ... MORE
&nbsp
Fastbreak - Forums
Need to know who the elite performers will be each week? Join the Fastbreak message boards and get some help from the competition. Compare your rosters, brag about your favorite NBA teams or just talk basketball all day, every day. Forums
Invite Your Friends
Import contacts from your favorite email providers and invite them to join your group and play Fastbreak with you!
ESPN Fantasy Jobs
Want to help build the games that you love to play?
Connect With Other Players