Step
Construct a team consisting of 9 football positions and earn points for your performance each week.
Step
Come back 5 minutes a week to update your roster and compete against friends, family, and other fans.
Step
Compete for your chance to win a $2,000 Best Buy gift card.
Cowboys-Redskins matchup the game to target

By Tom Carpenter
ESPN.com
Archive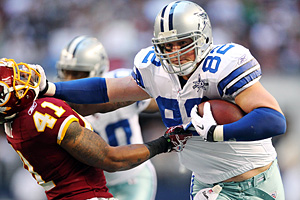 Matthew Emmons/US Presswire
That Boys-Skins tilt should produce some quality GC totals from Jason Witten and others.
Well, here we are at the end of the NFL regular season. With any luck, you managed to secure a win in a fantasy football league or two, but just as likely is that the fantasy football gods smacked you in the mouth at some point over the past few weeks and left you short of your goal. There is still a week left to save some face in the Gridiron Challenge, though, but before I get to some final roster recommendations, let me remind you that we have a playoff version of the Gridiron Challenge. Make sure you get your lineups set for that game before wild card weekend gets under way. Now, on to the regular-season finale of the regular season …
Quarterbacks
Robert Griffin III III (7.3), Washington Redskins: RG III tallied only 15 GC points last week, but he looked good in his return to action. Now he gets a Week 17 matchup at home against a Dallas Cowboys defense that he torched for 30 GC points on the road a month ago. A win puts the Skins in the playoffs; considering he has stepped up at every big moment as a rook, we should expect him to put on a show again this week. He should be worth the $7.3 million investment.
Michael Vick (6.5), Philadelphia Eagles: The risk in using Vick is obvious: He hasn't played since Week 10, could well get injured at any given moment, and is playing on the road. The upside is equally intriguing, though: He will be motivated to have an excellent performance as he tries to secure a starting job somewhere for next season and is facing a New York Giants defense that can be easily abused. As an added bonus, his extended absence from game action has left his contract value at a very reasonable $6.5 million.
Chad Henne (5.0), Jacksonville Jaguars: Henne's production has been sporadic since taking over as the starter for the Jags, but he has scored at least 18 GC points three times in his past five games, including 19 last week against the New England Patriots. Like Vick, Henne is auditioning for his next job in 2013, so he should be highly motivated to have a big game. It won't hurt that his Jags face the Tennessee Titans defense. Only the New Orleans Saints have given up more passing touchdowns than the Titans this season. With Nick Foles and Kirk Cousins out of the picture this week, Henne is the obvious upside "cheapo" play for Week 17. … MORE »
Join Our Gridiron Challenge Message Boards
Have a group you'd like others to join? Do you think your team is going to make it to the Super Bowl? Let yourself be heard or just see what others have to say on the Gridiron Challenge message boards.
Challenge NFC West Blogger Mike Sando

ESPN.com's NFL blog network is your source for news and information on every conference and now, NFC West blogger Mike Sando is ready to take on all his readers in ESPN.com's Gridiron Challenge. - Click here
ESPN Fantasy Jobs
Want to help build the games that you love to play?
Connect With Other Players