10 días hasta la temporada!
¡Bienvenido a Gridiron Playoff Challenge 2014!
Tienes que REGISTRARTE para abrir una cuenta de ESPN.com nueva o INICIAR UNA SESIÓN con una cuenta existente para empezar a jugar Gridiron Playoff Challenge. Después de iniciar una sesión puedes competir contra otros jugadores de ESPN Fantasía y podrías ganar grandes premios.
Construct a team of football players and earn points for your performance each week of the playoffs.
Vuelve 5 minutos a la semana para cambiar tus selecciones y para competir contra sus amigos, familiares, y otras fans.
Compite por grandes premios como tarjetas de regalo (*ver reglas).
IMPORTANTE
: Por favor repasa las "Reglas Oficiales" antes de arrancar con este concurso. Al hacer clic en el botón de "Ingresar", das evidencia de tu consentimiento para estar atado a estas Reglas Oficiales. Si no estás de acuerdo, por favor
haz tu salida del juego aquí
.
Bienvenido a los Playoffs
Por ESPNdeportes.com
Equipo de Fantasía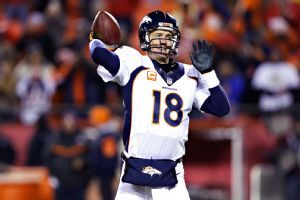 AP Photo/Ed Zurga
How many points will Peyton Manning put up in the postseason this time around?
The excitement of fantasy football doesn't end when the regular season ends. With Gridiron Playoff Challenge, you can continue the fun throughout the NFL postseason, with the additional risk that the pool of available players shrinks as their teams are eliminated.
The basic gameplay is similar to the regular Gridiron Challenge game: You get $50 million in fantasy money to build the roster that scores the most fantasy points as possible each week. The team with the most total points at the end of the playoffs wins a great prize.
However, there are a couple of wrinkles to this playoff version of the game that players should know when setting rosters.
First off, there are three scoring "weeks" in which you can adjust your roster: wild card weekend, divisional playoff weekend and conference championship weekend. Thus, your roster for wild card weekend should just include teams playing in those games. There's no reason to have players on your roster from the top two seeds in either conference during this week. You can put them in there for divisional playoff week.
Secondly, the roster you set for conference championship weekend lasts all the way to the Super Bowl. So not only are you predicting which players will score the most points in the conference title games, but you should also take into account which players you think will end up playing for the Lombardi Trophy.
So how well can you pick out the best fantasy performers given the constraints of a salary cap while also potentially predicting who's going to win the Super Bowl?
Good luck and hope your playoff dreams come true.
Join Our Gridiron Playoff Challenge Message Boards
Have a group you'd like others to join? Do you think your team is going to make it to the Super Bowl? Let yourself be heard or just see what others have to say on the Gridiron Playoff Challenge forums.