Step
Construct a playoff team consisting of 9 football positions and earn points for your team's performance.
Step
Come back 5 minutes a week to update your roster and compete against friends, family, and other fans.
Step
Compete for your chance to win a $2,000 Best Buy gift card by scoring the most points.
The last dance

By Tom Carpenter
Special to ESPN.com
Archive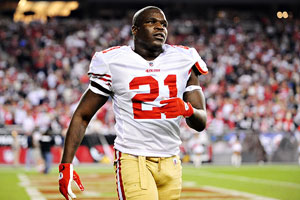 Mark J. Rebilas/US Presswire
Frank Gore and his Niners teammates make for intriguing plays this week (and next?).
Well, there's no way around it. We've hit the end of the road in fantasyland. As nice as it is to be able to rap about offseason moves, the draft, minicamps and the latest rumors all spring and summer, the fact is there will be just three more football games played this season … and then statistical nothingness, an empty space in your soul where football stats once filled the void.
To make matters worse for fantasy football junkies like us, this will be the last weekend we set our lineups for the Gridiron Challenge, because your conference championship lineup will remain the same for the Super Bowl. While the downside is that you have just one more chance to display your fantasy football acumen, the upside is we will test it on a new level over this stretch. That's because you'll need to factor who will advance to the Super Bowl into your process of deciding which players to use. You'll need to focus on players you think will have big games and win this week so they can pile up fresh stats in the Super Bowl.
With the end in sight, let's see who looks like the top plays for the stretch run:
Quarterbacks
With four starters available -- Tom Brady, Matt Ryan, Joe Flacco and Colin Kaepernick -- picking your starters shouldn't be a convoluted process. Basically, you should simply take the two quarterbacks you think will win this weekend and earn a spot in the Super Bowl. Personally, I like the New England Patriots and San Francisco 49ers to win. Coincidentally, or perhaps not so much, I think Brady and Kaepernick are in the best position to have big games in the conference championships. ... MORE
Join Our Gridiron Challenge Message Boards
Have a group you'd like others to join? Do you think your team is going to make it to the Super Bowl? Let yourself be heard or just see what others have to say on the Gridiron Playoff Challenge forums.
It's TMR versus The World

Ready to challenge the Talented Mr. Roto Matthew Berry in Gridiron Playoff Challenge? He's filled out his roster and is waiting for you to prove you can build a better one. The winner of the group will receive a callout from the one and only @MatthewBerryTMR twitter feed.

- Click here
Invite Your Friends
Import contacts from your favorite email providers and invite them to join your group and play Gridiron Playoff Challenge with you!
Prizes
Play Gridiron Playoff Challenge for your chance to win a $2,000 Best Buy gift card!
Total ARV is $2,000
Connect With Other Players