Step
Pick the winner of weekly MNF matchups. Earn 1 or 2 points for each correct pick.
Step
Come back for 5 minutes each week to make your picks and compete against friends, family, and other fans.
Step
Compete for your chance to win $1,000,000 and other cash prizes.
Million Dollar Decisions
By James Quintong
ESPN Fantasy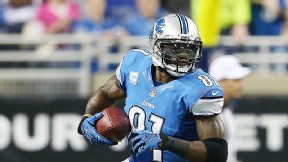 Leon Halip/Getty Images
Calvin Johnson set the single-season receiving yards record against the Falcons, but his Lions lost the game.
Sure, there are pick 'em games and fantasy football matchups to track on Monday nights, but now we've got a game that is solely focused on the action under the lights of Monday Night Football. And one lucky player will come away with $1 million.
With Primetime Payoff, you'll make predictions on all sorts of events taking place during the Monday Night Football game. You'll have 12 questions to answer before the game begins. Then we'll add four more questions at halftime, so you'll get bonus points for predicting what will happen in the second half to keep you further engaged in the action. Obviously, you'll want to make as many correct picks as possible throughout the season, as the season-long winner will come away with a $50,000 prize.
But here's the real twist: Each correct answer during the season corresponds to an entry for the $1 million prize. For example, if you answer 50 questions correctly during the season, you'll have 50 entries into the contest. A random drawing of all those entries will determine the winner. The more answers you get correct, the more chances you have at winning the grand prize. However, you can join the game at any point during the season, whether in Week 1 or Week 13, and as long as you get a correct answer, you've got a shot at winning $1 million.
In addition, there will be four special stunt weeks when the player with the most points during those particular weeks will win a great prize.
So sign up for Primetime Payoff now and see if you can win big under the bright lights of Monday Night Football.
Stunt Week Winners
Below is the list of winners from the four stunt weeks.
Week 12: Split winners mkemble593 (Rocklin, CA) and mbenson65 (Channahon, IL) with 28 points.
Week 13: joshk80 (Norfolk, NE) with 28 points.
Week 14: Boz Harwell (Harmony, NC) with 26 points.
Week 15: harley 1220 (Inez, KY) with a perfect 30 points.
Primetime Payoff - Forum
Need to know who the best bets are for this week? Join the Primetime Payoff forum and get some help from the competition. Trash-talk about your selections, brag about your favorite teams or anything else football-related, all day, every day. Forum
Play Primetime on Mobile
Play Primetime Payoff on your smartphone to make your halftime picks during the MNF game.

Enter this into your phone's browser:
http://es.pn/primetime-mobile
Prizes
Connect With Other Players