RyanHavens's 2014 Entry
Entry Name

Group(s)

Points

Pts

Rank

PCT

RyanHavens
183
11191

70.9
The Quest for the Cup

By Sean Allen
Special to ESPN.com
Archive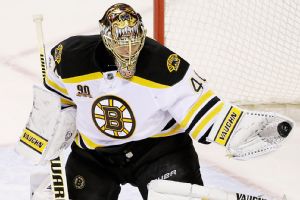 AP Photo/Marcio Jose Sanchez
Goalies with the potential to reach the Stanley Cup finals, such as Tuukka Rask, are highly coveted.
As the curtain draws on the NHL's regular season and the fantasy hockey season, it may be a sad time for some. But you can chase those blues away and buy yourself some time until June with more fantasy hockey by signing up for the Playoff Hockey Challenge.
It's not a rotisserie or head-to-head league, so it may not completely satiate your urge to rank players for the 2014-15 NHL fantasy season, but it will help a lot. This salary cap game allows you to pit your skills against a small group of friends or the entire ESPN Fantasy universe.
You pick a team of six forwards, four defensemen and two goaltenders under a fantasy budget of $100 million. That team scores you goals, assists, wins and shutout bonuses to carry you to glory. Goals are worth a point, assists are worth a point, wins are worth two points, and both goaltenders and defensemen get a bonus point for a shutout.
Selecting a team of stars should be relatively easy as the game begins with most forwards drawing a salary just under $9 million, the top defensemen just under $8 million and the goaltenders peak at $11 million. Do the math and you will notice you are just shy of being able to ice a roster of all the top players in the league. While that may be true, it's not always the top players in the league that excel in the playoffs.
Your rosters will lock after the first round, second round and one more time after the third round. For those counting at home, that's a roster lock after the conference quarterfinals, conference semifinals and conference finals. That's right. The team you pick for the conference finals better be picked well, as it will remain locked through until Lord Stanley's Mug is lifted.
There will be a few hurdles you need to clear:
• Staying under the cap with a team that is full of NHL superstars is possible, but it's not be a guarantee. Unless you are keen on some specific sleepers, you will be forced to make a couple of decisions that make you stray from your ideal lineup.
• Picking a roster that separates itself from the pack is going to prove difficult. A herd mentality will take over a large number of the entries coming into the Playoff Hockey Challenge. Because $100 million really only forces you to pick one sleeper, many teams will target the same superstars. If that is the case, you won't find it easy to separate yourself from the pack by picking the same players the pack does.
• The biggest pressure will be that teams and players are being eliminated as the postseason progresses. As the list of stars is culled and the pack is focused on fewer players, it will increase demand and reduce your options to zig when everybody else zags.
But keep these tips in mind to help you:
Don't chase the bonus point: That is to say, attempting to predict a shutout in the postseason based on the regular season is largely an exercise in futility. Aiming for shutout bonus points at the risk of not picking the best option for your team is at best a fruitless exercise and at worst potentially damaging to your performance. The one goaltender who gives me some pause for this general rule is Tuukka Rask. He is the league leader in shutouts this season and was tied for the league lead in both the regular season and playoffs last year. Really the only argument against using Rask in the Playoff Hockey Challenge is that everyone else will be.
Seven-game series are your friend: A goaltender is capped at 16 wins en route to the Stanley Cup championship. That means a goaltender in the Playoff Hockey Challenge is capped at 32 points, plus a few bonus points for shutouts. A goalie will get four wins in a series whether his team sweeps to the next round or fights into overtime in Game 7. But a skater can score points in both wins and losses in a seven-game set. If you see a matchup that looks destined for seven games, take advantage of it.
Goalies first, forwards second: The goaltender that wins the Stanley Cup is guaranteed (with the minor exception of a backup usurping points) 32 points in the Playoff Hockey Challenge. Sprinkle in an inevitable shutout or two and a goalie can easily get into the mid-30s for points. David Krejci led the playoffs with 26 points last season and no one else even earned 20. Malkin's 36 points in the 2009 playoffs was good for the seventh-best postseason of all time. The folks higher than him on the list are Paul Coffey, Mario Lemieux and Wayne Gretzky. Unless someone has a postseason for the ages, a goaltender will be the leader in the Playoff Hockey Challenge and the losing goaltender in the Stanley Cup final will probably be second. Invest accordingly with your budget.
Join Our Playoff Hockey Challenge Forum
Have a group you'd like others to join? Do you think your team is going to make it to the Stanley Cup finals? Let yourself be heard or just see what others have to say on the Playoff Hockey Challenge Forum.
Overall Leaderboard
Rank

Entry, Owner

Entry

Points

Pts

1
258
2
253
3
252
4*
251
4*
251
4*
251
7*
250
7*
250
7*
250
10*
249
* - Denotes tiebreaker used
- View Leaderboard -
Invite Your Friends
Import contacts from your favorite email providers and invite them to join your group and play Playoff Hockey Challenge with you!
Invite Friends »
Prizes
Play Playoff Hockey Challenge for your chance to win a $2,000 Best Buy gift card.
Total ARV is $2,000
Connect With Other Players