Step
Construct a team of 12 hockey players and earn points for their performance.
Step
Come back 5 minutes each round to change your roster and compete against friends, family, and other fans.
Step
Compete for your chance to win a $2,000 Best Buy gift card in Playoff Hockey Challenge.
The Quest for the Cup

By Sean Allen
Special to ESPN.com
Archive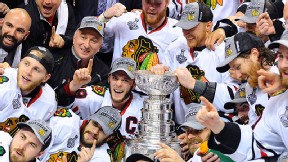 Brian Babineau/NHLI/Getty Images
How many members of the Stanley Cup-winning Blackhawks did you have on your squad?
Normally the Playoff Hockey Challenge is but a small percentage of the great marathon that is the NHL season. Not so in this lockout-shortened campaign. This season, the Playoff Hockey Challenge will come with almost equal bragging rights to your regular fantasy hockey pool. In fact, if a team captures the cup while playing in four seven-game series, those games would represent more than half of what the NHL regular season was.
If you haven't participated in the Playoff Hockey Challenge before, this is your season to get into it. We had almost four months of hockey taken away from us earlier this season, and this game is a chance for the fantasy sports fans to reclaim part of that lost time. Don't settle for your fantasy hockey season ending after the completion of the regular season. Extend it throughout the postseason with the Playoff Hockey Challenge.
The Basics
This should be easy for those who enjoy playing the Hockey Challenge during the regular season. The rules are very similar to the Hockey Challenge and are consistent with most of your basic salary-cap games.
You pick a team of six forwards, four defensemen and two goaltenders under a fantasy budget of $100 million. That team scores you goals, assists, wins and shutout bonuses to carry you to glory. Goals are worth a point, assists are worth a point, wins are worth two points, and goaltenders and defensemen get a bonus point for a shutout.
Selecting a team of stars should be relatively easy as the game begins with most forwards drawing a salary just under $9 million, the top defensemen just under $8 million, and the goaltenders peaking at $11 million. Do the math and you will notice you are just shy of being able to ice a roster of all the top players in the league. While that may be true, it's not always the top players in the league who excel in the playoffs... MORE
Join Our Playoff Hockey Challenge Forum
Have a group you'd like others to join? Do you think your team is going to make it to the Stanley Cup finals? Let yourself be heard or just see what others have to say on the Playoff Hockey Challenge Forum.
Invite Your Friends
Import contacts from your favorite email providers and invite them to join your group and play Playoff Hockey Challenge with you!
Prizes
Play Playoff Hockey Challenge for your chance to win a $2,000 Best Buy gift card.
Total ARV is $2,000
Connect With Other Players