You are currently viewing a previous season
Fantasy report card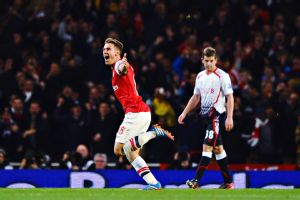 Aaron Ramsey has been the fantasy player of the year so far.
With the Premier League season now nearly one-third complete, let's look at fantasy players who have had the greatest improvement from last season and those players whose performances have regressed the most. Except where noted, all players have been in eleven matches.
Goalkeepers Up the most: Artur Boruc, Southampton, 6.1 salary The surprising Saints have six clean sheets and Boruc is the second best fantasy GK with 61 points. Last season he was 20th. Tim Howard, Everton, 6.5 salary The Toffees' GK also has six clean sheets and his 66 fantasy points are tops at his position. Last season he finished eighth.
Down the most: Joe Hart, Manchester City, 6.6 salary, nine games Last season's top fantasy GK, Hart is now benched, ranked 17th, and has just 39 points. Petr Cech, Chelsea, 7.3 salary The fourth-best fantasy GK last season is tenth with 50 points. ... MORE
You can also get more lineup tips throughout the season on John Culea's Fantasy Picks blog.
Remember you can discuss the game on the Premier Fantasy Forum and get more information from Dale Johnson on Twitter: @dalejohnsonESPN. Also, you can email fantasy@soccernet.com
Invite Your Friends
Import contacts from your favorite email providers and invite them to join your group and play Premier Fantasy with you!
Invite Friends »
Connect With Other Players