Welcome to Premier Fantasy 2014!
You'll need to REGISTER for a new ESPN.com account or SIGN-IN with an existing account to get started in Premier Fantasy. Once signed in, you can compete against other ESPN Fantasy players and will be able to compete for great prizes.
Build a team of EPL players and earn points for their performance each week.
Come back 5 minutes a week to change your roster and compete against friends, family, and other fans.
Compete for your chance to win a $2,000 Amazon gift card (total value of all prizes: $4,000).
IMPORTANT
: Please review the Official Rules before entering this contest. By clicking on the "Create Entry" button, you evidence your consent to be bound by these Official Rules. If you do not agree to the Official Rules
exit the game here
.
Week 28 review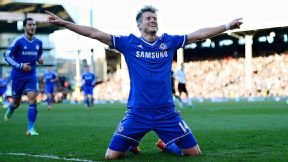 Andre Schurrle had a huge game but is a major fantasy risk most of the time.
With Manchester United, Manchester City, Sunderland, and WBA all not in Premier League action, the fantasy weekend had eight games.
Best performance: Andre Schurrle, Chelsea Schurrle's hat trick against Fulham was the first time he had scored since December 7. Although his value is a measly 5.3, the German midfielder is not a good fantasy option because of his spotty playing time. In his last ten PL games he has five appearances, but only six minutes in one and three in another.
At last!
Moussa Sissoko, Newcastle
Scored a brace against Hull, his first goals since November 30.
Christian Benteke, Aston Villa
Broke a four-game scoreless streak with two goals, the first was one for the highlight reel.
Roberto Soldado, Tottenham
Scored his first goal of 2014 in his team's 1-0 result.
Jonathan De Guzman, Swansea
Had his first goal since October 19th.
You can also get more lineup tips throughout the season on John Culea's Fantasy Picks blog.
Remember you can discuss the game on the Premier Fantasy Forum and get more information from Dale Johnson on Twitter: @dalejohnsonESPN. Also, you can email fantasy@soccernet.com
Invite Your Friends
Import contacts from your favorite email providers and invite them to join your group and play Premier Fantasy with you!
Invite Friends »
Connect With Other Players