kingbharat123's 2014 Entry
Entry Name
Group(s)
Segment
Points
Rank
Percent
kingbharat123
Segment 2
0
0
0.0%
Overall
761
74836
31.9%
Best players for 2013-14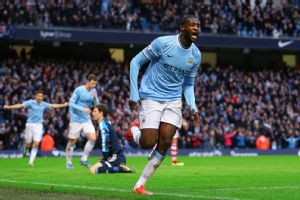 Yaya Toure was arguably the most valuable player in fantasy this season.
All Premier League fantasy managers for 2013-14 had their hits and misses, so who were the players who rewarded the most?
Below are my picks for the three top players at each position and the player I considered the best bargain:
Forwards
1. Luis Suarez, Liverpool: Suarez, after being suspended for the first six matches of the season, was amazing with 31 goals and 12 assists in 33 games played. Suarez is a machine gun with 181 shots and with 253 fantasy points, rightly carried the game's highest value of 11.9 and not surprisingly was owned by 67 percent of managers.
2. Olivier Giroud, Arsenal: Giroud quietly finished as the second-highest fantasy forward with 192 points on 16 goals and 8 assists and a good value of 9.8. For some reason, only 10 percent of managers ended up with the Frenchman on their roster. He was in 36 games.
3. Daniel Sturridge, Liverpool: The other half of S&S had 186 fantasy points in 29 games. He scored 22 goals and had 7 assists. He had a value of 9.3 and was owned by 26 percent of managers. ... MORE
You can read more reviews about the 2013-14 fantasy season on John Culea's Fantasy Picks blog.
Remember you can discuss the game on the Premier Fantasy Forum and get more information from Dale Johnson on Twitter: @dalejohnsonESPN. Also, you can email fantasy@soccernet.com
Invite Your Friends
Import contacts from your favorite email providers and invite them to join your group and play Premier Fantasy with you!
Invite Friends »
Connect With Other Players