SaintNeo007's 2014 Entry
Entry Name
Group(s)
Segment
Points
Rank
Percent
Saint Ike FC
Segment 2
841
10647
76.6%
Overall
2007
7361
93.2%
Week 34 preview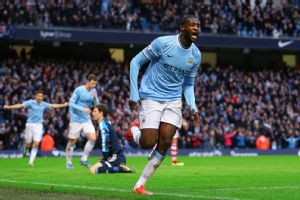 Manchester City star Yaya Toure is expected to shake off a knock for the big showdown at Liverpool.
There are eleven games covering four days this week; however, Manchester United and Hull will not be in action. Four teams play two games: Everton, Sunderland, Crystal Palace, and Manchester City.
April 12, the first day of Gameweek 34, you will have seven chances to check announced lineups as all games begin at the same time.
Saturday, April 12
Crystal Palace (10-4-18) vs. Aston Villa (9-7-16) Palace got a brace from Jason Puncheon the last time out and goalkeeper Julian Speroni has three clean sheets in four matches. Aston Villa, reeling with the loss of Christian Benteke, offers no fantasy value.
Fulham (8-3-22) vs. Norwich (8-8-17) Hugo Rodallega's first goal of the season gives the 18th place Cottages hope while the 19th place Canaries, who sacked manager Chris Hughton, were done in by former Cardiff star Joe Ledley.
Southampton (13-9-11) vs. Cardiff (6-8-19) The loss of forward Jay Rodriguez is massive. Rickie Lambert scored against Manchester City. Adam Lallana once again looks good for fantasy production. At 1-4-11, Cardiff are the worst road team in the league, scoring only 11 goals and giving up 32 in 16 games. ... MORE
You can also get more lineup tips throughout the season on John Culea's Fantasy Picks blog.
Remember you can discuss the game on the Premier Fantasy Forum and get more information from Dale Johnson on Twitter: @dalejohnsonESPN. Also, you can email fantasy@soccernet.com
Invite Your Friends
Import contacts from your favorite email providers and invite them to join your group and play Premier Fantasy with you!
Invite Friends »
Connect With Other Players