dilinks's 2014 Entry
Entry Name
Group(s)
Segment
Points
Rank
Percent
dilinks
Segment 2
878
13178
71.2%
Overall
1983
11470
89.5%
Week 35 review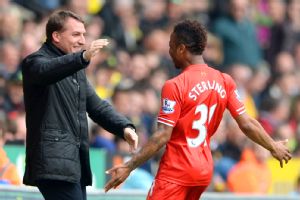 Liverpool's midfield wonder, Raheem Sterling scored twice and had an assist as the Reds continue to roll.
Outstanding performances:
Wilfried Bony, Swansea His brace broke a four-game goalless streak and gives him 13 goals, but more importantly moved the Swans higher in their survival fight.
Lukas Podolski, Arsenal Another brace, his second in two games and five goals and two assists in his last five games.
Raheem Sterling, Liverpool His brace and an assist against Norwich give him three goals and an assist in his last two games. He is on fire! ... MORE
You can also get more lineup tips throughout the season on John Culea's Fantasy Picks blog.
Remember you can discuss the game on the Premier Fantasy Forum and get more information from Dale Johnson on Twitter: @dalejohnsonESPN. Also, you can email fantasy@soccernet.com
Invite Your Friends
Import contacts from your favorite email providers and invite them to join your group and play Premier Fantasy with you!
Invite Friends »
Connect With Other Players