Step
Construct a team of 15 soccer players from the Premier League and earn points for their performance each week.
Step
Come back 15 minutes a week to manage our team and compete against friends, family, and other fans.
Step
Compete for your chance to win £1,300 gift card (total value of all prizes: £2,600).
Finishing strong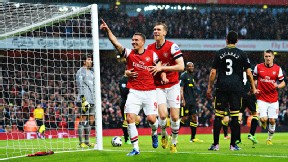 Lukas Podolski, Per Mertesacker and Arsenal hope to end the Premier League season on a high note.
Tradition and precaution to keep competition fair have all ten matches the final day of the season beginning at the same time on Sunday. Fantasy managers can see the announced lineups for all twenty teams thirty minutes before Gameweek 38 locks.
Chelsea (21-9-7) vs. Everton (16-15-6)
After looking gassed and no goals or assists in his last four Premier League games, Juan Mata had two assists in the Europa league final victory. Eden Hazard is doubtful. Frank Lampard's new one-year contract should see him start in front of the home faithful hoping he'll add to his record career goal count. Ramires is suspended. Oscar has three goals in his last four games. Demba Ba has gone dry and Fernando Torres, at least in Premier League play is... Fernando Torres.
This will be David Moyes' last game as Everton's manager. The emotion of Moyes' final home game was the week before and the team will finish sixth. Tim Howard and Leighton Baines have six clean sheets in the last eight matches and Kevin Mirallas had two goals the last time out. Marouane Fellaini had been linked to Chelsea. With no goals in seven matches, the Belgian will be out to impress. Message to management from a Chelsea supporter: DON'T SIGN THIS BLOKE!
Newcastle (11-8-18) vs. Arsenal (20-10-7)
The Magpies are PL safe after an awful season. They will be up against motivated Arsenal, desperate to secure a Champions League berth. Theo Walcott scored his third goal in the last three games, Lukas Podolski got a brace, and after going six games with no goals or assists, Santi Cazorla's delivered four assists against Wigan. Olivier Giroud returns from suspension. Mikel Arteta is out injured. ... MORE
You can also get more lineup tips on John Culea's Fantasy Picks blog, as well as from ESPN FC's Fantasy Friday video segment.
Remember you can discuss the game on the Premier Fantasy Forum and get more information from Dale Johnson on Twitter: @dalejohnsonESPN. Also, you can email fantasy@soccernet.com
Connect With Other Players