Mario-Wade3's 2013 Entry
Entry Name
Group(s)
Segment
Points
Rank
Percent
Mario-Wade3
Segment 2
0
0
0.0%
Overall
1552
61331
50.5%
New Segment, New Values

By Mark Garrow
Jayski.com
Archive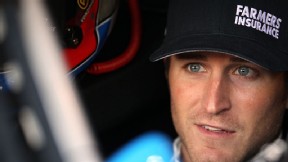 Todd Warshaw/Getty Images
Kasey Kahne is looking to win the Coca-Cola 600 for the fourth time.
The driver values have all been changed and the slate completely cleaned as we begin the second segment of the 2013 ESPN Stock Car Challenge, which will last 15 races, beginning with Charlotte and ending with the final event of the Sprint Cup Series regular season in September at Richmond.
First up is this Sunday's marathon known as the Coca-Cola 600. Seven times the driver who won the Sprint All-Star race went on to win NASCAR's longest test of man and machine. Jimmie Johnson (22.2) certainly has the potential to up that number to eight, but teammate Kasey Kahne (21.3) is my favorite. He's this race's defending winner and has gone to Victory Lane at Charlotte on four occasions, including three times in the 600.
I also like Matt Kenseth (22.0) to run top-five and have a chance to win for the fourth time this season. He's also very good at Dover, so his value could jump the next two weeks. Joe Gibbs Racing teammate Kyle Busch (21.2) looked very strong in the All-Star event and has a shot to win at Charlotte again, as does Clint Bowyer (21.5), who grabbed the checkered flag last fall. Carl Edwards (22.1) is the second-highest-valued driver and should be good for a top-10, at least. ... MORE
More Expert Analysis

Jayski.com's Mark Garrow analyzes the racing world every week for ESPN.com. Garrow provides readers with an in-depth look at driver trends, race history and life on the circuit. Follow each race with exclusive coverage from the track and create a championship Stock Car Challenge team.

Wednesday chat, 3 p.m. ET | Charlotte race-day chat, Sunday, 3:30 p.m. ET | Garrow Archive
Stock Car Challenge - Forums
Join the Stock Car Challenge forums to discuss starting lineups and course information or just to meet other racing fans! Stock Car Challenge - Forums
Invite Your Friends
Import contacts from your favorite email providers and invite them to join your group and play Stock Car Challenge with you!
Connect With Other Players