bayu27's 2013 Entry
Entry Name
Group(s)
Segment
Points
Rank
Percent
bayu27
Segment 2
0
0
0.0%
Overall
1562
57291
53.7%
Oh my Darlington

By Mark Garrow
Jayski.com
Archive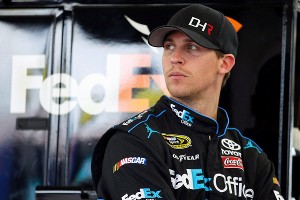 Chris Graythen/NASCAR/Getty Images
Darlington looks like a good place for Denny Hamlin to get back into the car full-time.
The Sprint Cup Series is making its annual pilgrimage to Darlington Raceway. For the final date of Segment 1 in Stock Car Challenge, the drivers will be courting the Lady in Black.
Now that he'll be able to start and run all out, I'm picturing Denny Hamlin (22.1) with a suit and tie knocking on her door with flowers, candy and a big smile, trying hard to make the right impression. After all, he's had some pretty good nights on the town with her lately, proving she wasn't too tough to tame. So, like his fellow competitors, we figure the "Lady" will welcome Hamlin back with open arms.
Sure, it's going out on a limb to think the 32-year-old driver is going to come back in a blaze of glory, but consider these facts. One, he has a win, two runner-ups and an average finish of 5.9 at Darlington, so what better place to jump back on the bike. Two, to say he's pumped up and ready to go is a major understatement. With the amount of adrenaline pumping through his body, he won't be feeling any pain in his back. Three, Hamlin wants the boy in the 22 car, to eat his dust so bad he can taste it. ... MORE
More Expert Analysis

Jayski.com's Mark Garrow analyzes the racing world every week for ESPN.com. Garrow provides readers with an in-depth look at driver trends, race history and life on the circuit. Follow each race with exclusive coverage from the track and create a championship Stock Car Challenge team.

Wednesday chat, 3 p.m. ET | Darling race-day chat, Saturday, 3:30 p.m. ET | Garrow Archive
Stock Car Challenge - Forums
Join the Stock Car Challenge forums to discuss starting lineups and course information or just to meet other racing fans! Stock Car Challenge - Forums
Invite Your Friends
Import contacts from your favorite email providers and invite them to join your group and play Stock Car Challenge with you!
ESPN Fantasy Jobs
Want to help build the games that you love to play?
Connect With Other Players