sportscoach2413's 2013 Entry
Entry Name
Group(s)
Segment
Points
Rank
Percent
sportscoach2413
Segment 3
1449
45233
36.0%
Overall
5185
34996
73.6%
Down the Homestead homestretch

By Mark Garrow
Jayski.com
Archive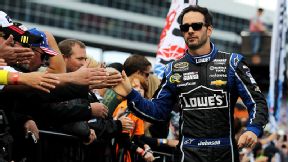 Todd Warshaw/NASCAR/Getty Images
Jimmie Johnson appears likely to win another Sprint Cup title. But does that mean he's worth using on your fantasy team this week?
During the opening nine races in the 2013 Chase for the Sprint Cup, Jimmie Johnson (25.0) has been a hot stock, his value continuously climbing as he put up 41 points per event with an average finish of 4.6. His price-to-earnings ratio was the envy Wall Street and the garage.
Now, it's time to cash in, take the money and run.
Following Phoenix, Johnson leads Matt Kenseth by 28 points and is up 34 on Kevin Harvick, the only other driver with a mathematical chance for the championship, so there is absolutely no reason for "Five-Time" to do anything but stroke on the way to capturing a sixth title Sunday afternoon. Johnson is in "tweener" land with a lead that's big, but not large enough for him to be able to go anything close to all out. The only play for the 38-year-old driver and his crew chief Chad Knaus is detune the engine a little bit and find a nice place to ride all by his lonesome somewhere around 10th place. Then, after 267 laps Johnson will wave at the winner and go get the big trophy.
That's why, in my opinion, it's time to jump off the Johnson gravy train, take the profit and sink that dough into another driver or two you know is going to be pushing it to the limit to win the Ford EcoBoost 400. If you want to keep him knowing he'll settle in somewhere in the top-10, then go ahead. If you want to score max points, however, Johnson needs to be sold.
If you traded him for teammate Jeff Gordon (22.7), that would give you 2.3 more to work with and allow for more maneuvering under the cap. I like the four-time champ for three reasons. One, during the Chase he's been top-10 at Chicago, Charlotte, and Kansas, and had a good run going before he blew the tire at Texas. Secondly, he's the defending winner at Homestead with five top-6 finishes in his past seven outings in southern Florida. Thirdly, he tested there recently, telling me Johnson was the guy to beat at Texas and that Gordon had the fastest car at Homestead.
Matt Kenseth (24.2) has been one of the strongest drivers all year on the mile-and-a-half tracks and he should bounce back from last Sunday's "disaster in the desert" with a top-5 and potentially a winning performance. There are others among the upper-valued drivers I would put in the same category starting with Carl Edwards (22.3). Like Gordon, he could wind up big score at a cap-friendly price. Edwards has won twice at Homestead, the last of which came in 2011, and in his last five starts as been fourth or better four times. ... MORE
More Expert Analysis

Jayski.com's Mark Garrow analyzes the racing world every week for ESPN.com. Garrow provides readers with an in-depth look at driver trends, race history and life on the circuit. Follow each race with exclusive coverage from the track and create a championship Stock Car Challenge team.

Garrow chat wrap | Homestead race-day chat, Sunday, 12:30 ET | Garrow Archive
Stock Car Challenge - Forums
Join the Stock Car Challenge forums to discuss starting lineups and course information or just to meet other racing fans! Stock Car Challenge - Forums
Invite Your Friends
Import contacts from your favorite email providers and invite them to join your group and play Stock Car Challenge with you!
Connect With Other Players