You are currently viewing a previous season
Jonwildcat96's 2011 Entry
| Entry Name | Group(s) | Points | Rank | Percent |
| --- | --- | --- | --- | --- |
| Jonwildcat96 | Jonwildcat96 is currently not a member of any groups. | 82 | 7 | 100.0% |
Big Game, Big Decisions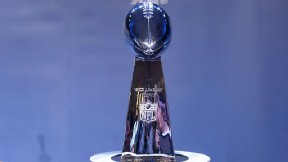 Kirby Lee/Image of Sport/USA TODAY Sports
The Vince Lombardi is the ultimate prize in football.
The Super Bowl is here, the culmination of the football season. That gives you one last chance to show off your pigskin prognostication skills. And you can do just that with our Super Pick 'em game, winning some nice prizes in the process.
You'll answer 20 questions, predicting what will happen in the big game in New Orleans. In addition to forecasting the eventual Super Bowl champion, you'll also be making picks on a variety of prop bets throughout the game, such as points scored in a quarter, the length of the longest scoring play and individual player performances.
For each of the 20 questions, you pick one of two options. But there's a twist: On some of the questions, one of the options is worth more points than the other. Play it safe, and you'll get some points, but if you get an "underdog" pick correct, you get extra points for your entry. It's not just about getting the most questions right. Instead, the player who racks up the most points through correct answers over the course of the game will win the prize.
Super Pick 'em gives you plenty of rooting interests throughout the evening. You will root not just for one team to win but also for a variety of events to occur throughout the course of the evening. That extra dose of excitement is a fine way to wrap up the football season.
Good luck and happy picking!
&nbsp
Super Pick 'em - Message Boards
Join the Super Pick 'em message boards and get some help from the competition. Trash-talk with your selections, brag about your favorite NFL teams or anything else pro football-related all day, every day. Forum
Invite Your Friends
Import contacts from your favorite email providers and invite them to join your group and play Super Pick'em with you!
Connect With Other Players