Thanks for your interest in Women's Tournament Challenge. This year's game has ended.
Please check out the latest ESPN fantasy games on the Fantasy Game Front Page
starcher34's 2014 Bracket
Champ

Champ

Entry Name

Group(s)

Points

Pts

Rank

PCT

starcher34 1
starcher34 is currently not a member of any groups.
1770
49

100.0
Game On
By ESPN Fantasy Staff
ESPN.com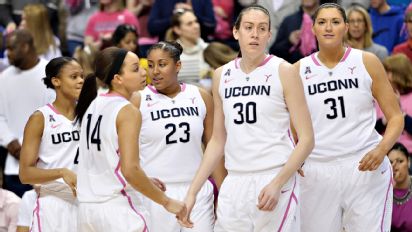 Bill Shettle/Cal Sport Media
Can Connecticut win a ninth national title?
The women's edition of March Madness is right around the corner, as the nation's best teams will do battle to earn a berth in Nashville for the Final Four on April 6 and 8.
So it's a great time to sign up for the 2014 edition of Women's Tournament Challenge. Then come back after the brackets are revealed March 17, make your picks for the NCAA women's tournament and follow along with the action when games tip off March 22 all the way to the Final Four.
The object of the game is simple, especially for those who have played in bracket games (for both men and women) over the years. Select who you think will win each of the 63 tournament games, from the first round on the weekend of March 22-23 all the way to the championship game April 8. You'll get points for each game you pick correctly, with the points increasing as the tournament progresses. You'll have to make all your picks before the first round tips off, but after that, just tune in to the ESPN family of networks to watch all the women's action unfold. (All women's tournament games will be on ESPN, ESPN2, ESPNU or ESPN3, as well as WatchESPN.)
If you score the most points, you'll have a chance at a $5,000 Best Buy gift card.
You can fill out up to 10 brackets, so you can have some fun in making your picks. You can go with all the favorites, you can go upset-happy, you can pick teams based on mascots or school colors. You can go in many different directions.
As for the top contenders who could come away with the championship, there's defending national champion Connecticut. Among other top contenders include last year's runner-up Louisville, as well as Notre Dame, Stanford, Baylor, Duke and Tennessee.
So best of luck as you take your shot toward women's bracket glory.
Join Our Women's Tournament Challenge Forum
Have a group you'd like others to join? Do you think one of the underdogs can pull off a major upset? Let yourself be heard or just see what others have to say on the Women's Tournament Challenge Forum.
Overall Leaderboard
Rank

Bracket, Owner

Bracket

Points

Pts

1*
1830
1*
1830
3
1820
4*
1810
4*
1810
4*
1810
7*
1800
7*
1800
7*
1800
7*
1800
* - Denotes tiebreaker used
- View Leaderboard -
Invite Your Friends
Import contacts from your favorite email providers and invite them to join your group and play Women's Tournament Challenge with you!
Invite Friends »
Prizes
Play Women's Tournament Challenge for your chance to win a $5,000 Best Buy gift card.
Total ARV is $5,000
Connect With Other Players