Thanks for your interest in Bracket Predictor. This year's game has ended.
Please check out the latest ESPN fantasy games on the Fantasy Game Front Page
bsutton4's 2014 Brackets
Champ

Champ

Bracket Name

Group(s)

Points

Pts

Rank

PCT

bsutton4 1
bsutton4 is currently not a member of any groups.
102
151564

88.1

bsutton4 2
73
482516

62.1
The World is Watching
By ESPN Fantasy Staff
ESPN.com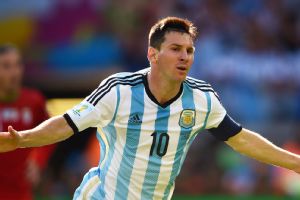 How long can Lionel Messi and Argentina last?
The years of qualifying matches are now over. The field of 32 teams for the 2014 World Cup is now set. All eyes will be set on Brazil this summer as the world's best soccer teams battle for one of the most prestigious trophies in sports. And you can get in on the action by playing ESPNFC's Bracket Predictor game.
In this game, you'll get to forecast a good chunk of the World Cup action, much like those trying to predict the results in the NCAA basketball tournament from the early rounds all the way to the title game. After you make your picks, you'll be able to sit back, enjoy the action and see if your prognostication skills are up to snuff.
In this game, you'll first have to predict which 16 teams will emerge from the group stage and advance to the knockout round (picking two teams in each of the eight preliminary groups). After that, you'll predict the winners from all the knockout games all the way through into the World Cup final. You'll get points for each correct pick (a complete breakdown of the points you can earn can be found in the How to Play section). The user with the most points at the end of the tournament will win a $2,000 Best Buy gift card and next in line may still walk away with a $1,000 Best Buy gift card for second place.
And while you're chasing after the grand prize, you can also create smaller groups to play for bragging rights among friends, relatives and co-workers. You will also be able to join groups dedicated to fans of each of the teams involved in the tournament.
So sign up now and start making your picks. And be sure to check out ESPNFC.com for all the latest news, information and analysis that can help you make the best choices for the game. Then when the games finally kick off, you'll have even plenty to root for.
Good luck, happy picking and let the games begin.
Bracket Predictor - Forum
Need to know who the best bets are to win it all? Join the Bracket Predictor Forum and get some help from the competition. Trash-talk about your bracket, brag about your favorite teams or just discuss anything else World Cup-related all day, every day.
Overall Leaderboard
Rank

Bracket, Owner

Bracket

Points

Pts

1
151
2*
150
2*
150
4
149
5*
148
5*
148
5*
148
8*
147
8*
147
8*
147
* - Denotes tiebreaker used
- View Leaderboard -
Invite Your Friends
Import contacts from your favorite email providers and invite them to join your group and play Bracket Predictor with you!
Invite Friends »
Connect With Other Players